Start Your Wedding Website
Select a design
Shop our wedding websites and start with one of our pre-designed websites, or start from scratch. Each website template on our shop page has access to all features and design options, so no matter which website you choose to start with, you will have access to all the same tools.
When choosing a design we always suggest going for one that has a content structure that best suits your needs. Customizing colors, fonts, photos and more is a breeze!
Start your subscription
All of our website subscriptions start as a 7-day free trial. This means that you will not be billed for 7 days and have free reign to explore and start designing! There are no limitations or restricted access during the trial. Use the free trial period to explore the platform, input your content, upload your images and test out functionality.
Reminder: If you would like to keep your subscripiton past the 7 days, make sure to input your credit card info in under Manage Subscription. Your credit card will not be charged until the 7 day free trial is over.
Please note that if you have added your credit card within your 7-day trial, it will not be charged until the 7th day. If you have a green dot next to Manage Subscription your good to go, and can ignore any "add your card" emails the system sends.
Edit your website
After you start a website subscription, your website will appear in your account and is ready for editing.
Log into your account, go to My Account > My Websites
Click on the Start My Website thumbnail to start editing your new site.
Select and save your new 'myblissandbone' URL before you edit your site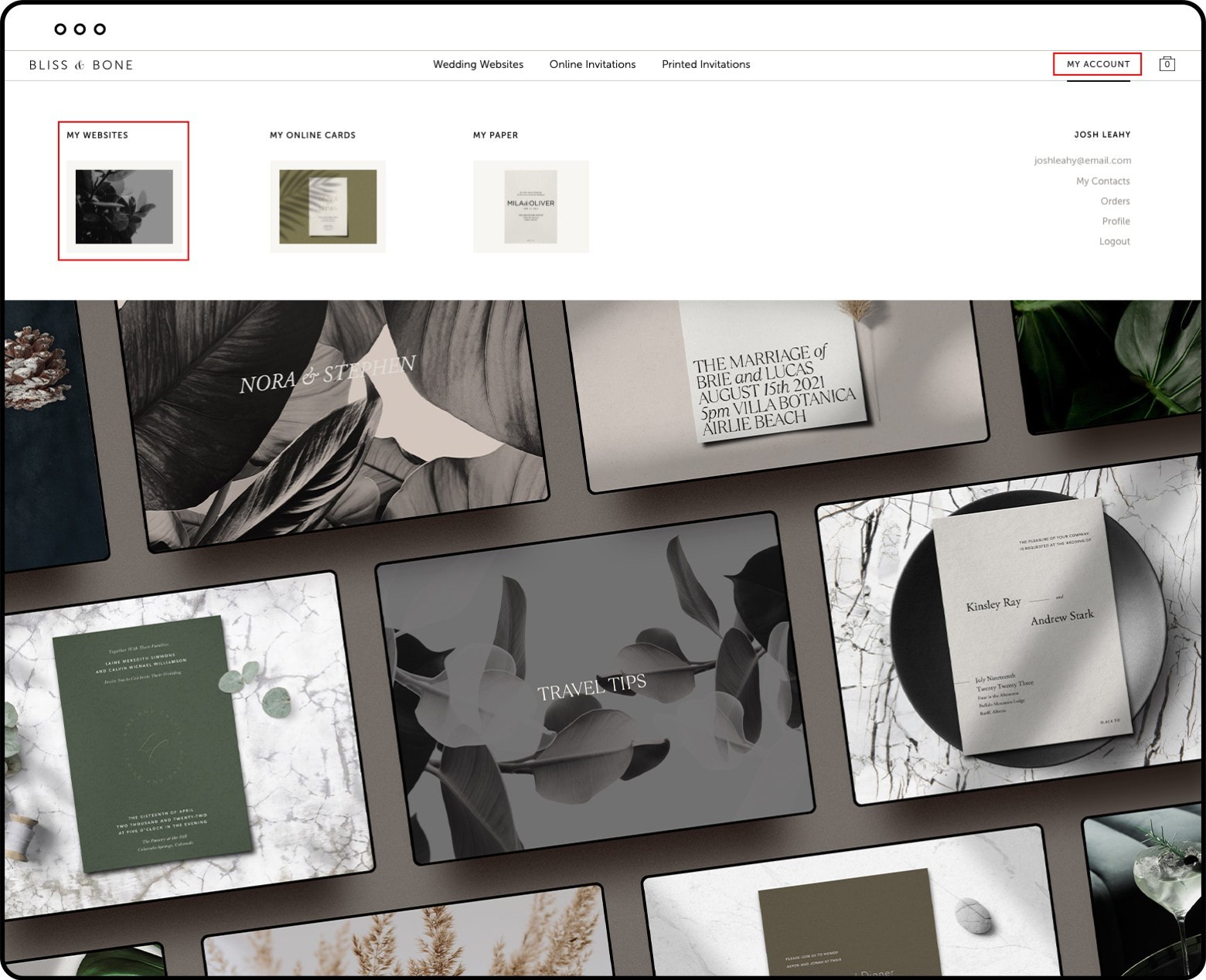 When your website is live
Your site is live immediately after you set your Bliss & Bone URL. There is no 'offline' state or 'make my site live' process. Remember, no one will know your URL unless you share it, so chances of anyone stumbling onto your site before it's ready, is slim to none.
Your URL will be under your URL & Settings, and you can click on it any time to visit your site.
If you want to include additional security measures, you can add a password or restrict access to your contacts in your URL & Settings.
You can edit your site at any time and as often as you need. When you edit and save your changes, those updates will be immediately reflected on your website.
Change website designs
All of our sites are designed in a website builder and are not templates. This means that you have access to all of the same assets and features regardless of the design you choose. So, in reality, you can start with one design and turn into another using all the tools you have available in the website builder.
The easiest approach to completely change a design is to cancel your current subscription and start a new website subscription with the design of your choice. Keep in mind that any information or customizations made on your initial website will be lost if cancelled. The changes will not transfer to a new website subscription.
Also, if you are in the free 7-day trial period while you are starting new subscripitons, your URL will be available if you cancel a subscription and start a new one.
Differences between a Standard and Premium subscription
There are a handful of primary upgrades that a Premium subscription offers:
Ability to have private events and connect your website to your Contacts (added privacy and limiting RSVPs).
Access to a premium photo gallery with hundreds of images to help make your site beautiful.
Ability to remove "Bliss & Bone" branding in the footer, and/or add a custom footer.
Ability to upload your own custom favicon
Manage your URL
Go into your Website Editor > URL & Settings to find your myblissandbone URL and set up a custom URL if you choose.
Search indexing and finding your site on google search
The default state for your website is to have it not indexed for search. If you would like to have it indexed for search, do the following:
Go to your Website Editor > URL & Settings
Scroll down and turn on Allow Search Engine Indexing
Please note that this will not be successful immediately, and can take weeks to work. Once you turn this on, we submit your site to be indexed by Google, and it is completely out of our hands after that. We cannot further influence (or code) for your site to show in search.
Recommendation: Your website title is important for search indexing. At a very basic level, if you want your guests to find your site, the name of your site ("Browser Title" under URL & Settings) should be something they might search. So, you probably shouldn't name your site "The Future Smith's Wedding Website" - none of your guests will likely search that on Google. They will, however, search something like "Amy and John's Wedding Website".
So, we recommend using your full names in your Browser Title - "Amy Miller and John Smith's Wedding Website".
Website browser title
The Browser Title field is where you can set the name of your site that will appear at the top of the browser or in a window tab. This is important for website search indexing (if you choose to have your website indexed by Google).
An example of a good browser title is: "John Miller & Kasey Mannor's Wedding Website".
Upload your own favicon
Uploading your own favicon is a premium subscription feature. Navigate to Website Editor > URL & Settings and scroll to the bottom of the URL & Settings page.